Guest post by Jamal Mehmood:
It is clear from the first few minutes of speaking to her, that Rachael Owhin is an intelligent, and grounded young woman.
Growing up in Brent, North London, the isolated city was all she knew before she left for Sussex University, and then ultimately to Oxford to read Migration Studies. While Rachael currently resides in Oxford, her journey to this globally lauded and recognized institution is quite extraordinary.
Her resilience comes from her ambitious family, who instilled in her the importance of not only getting involved with the community, but more importantly, taking on a leadership role. Given the examples already set by her mother, who founded the "Jewel Scholarship Fund" (A platform that assists gifted and talented girls in the African diaspora with tuition fees), it's not hard to see how her environment, coupled with her drive has enabled her to overcome the odds while most of her peers succumbed to pressure. In short, when she isn't studying, she works alongside the woman who gave her the values she now so wonderfully adheres to.
As part of her undergraduate course at Sussex, Rachael had the opportunity to attend the all-female Spelman College, in Atlanta USA. Spelman was not only founded by a woman in 1881, but is also a historically Black college – a term that may confuse some readers on this side of the pond. The university developed through the Jim Crow era, allowing a space for Black students to thrive academically. The institution remains majority Black, but has students from multiple ethnic backgrounds in the USA as well as some international students. When I asked Rachael if she feels an institution like this should exist in the UK, she immediately replied with the affirmative, though acknowledging that it is unlikely to ever happen given our reluctance to even discuss racial issues in the UK. This reluctance, as well as our overt cases of racial abuse would according to Rachael, render the concept of a Black institution ludicrous to many, given that the UK is a country of subtle racism and micro-aggression. There are however reasons for hope; Rachael points to groups like the Powerlist Foundation, a leadership school for Black students that works to cultivate young Black minds.
The journey to Oxford
After graduating in Law from Sussex, Rachael decided to pursue a masters at Oxford, and given her academic merit, was accepted. However the Oxford payment system, unlike other universities meant she had to pay everything up-front, which after her savings, help from family and even unexpected donations from loved ones, still left her with £10,000 to raise. After exhausting all possible avenues including the career development loan, Rachael decided she would crowdfund her way to Oxford. This was certainly no easy way out.
"People need to understand I didn't sleep for like a week…you email every single person, and send a personal message…"
Subsequently, Rachael's sister came up with the hashtag, #Oxford10000, which along with her tireless efforts to reach out to donors and publicize her efforts, as well as the campaign appearing in the Daily Mail, allowed her to raise the £10k in only 10 days.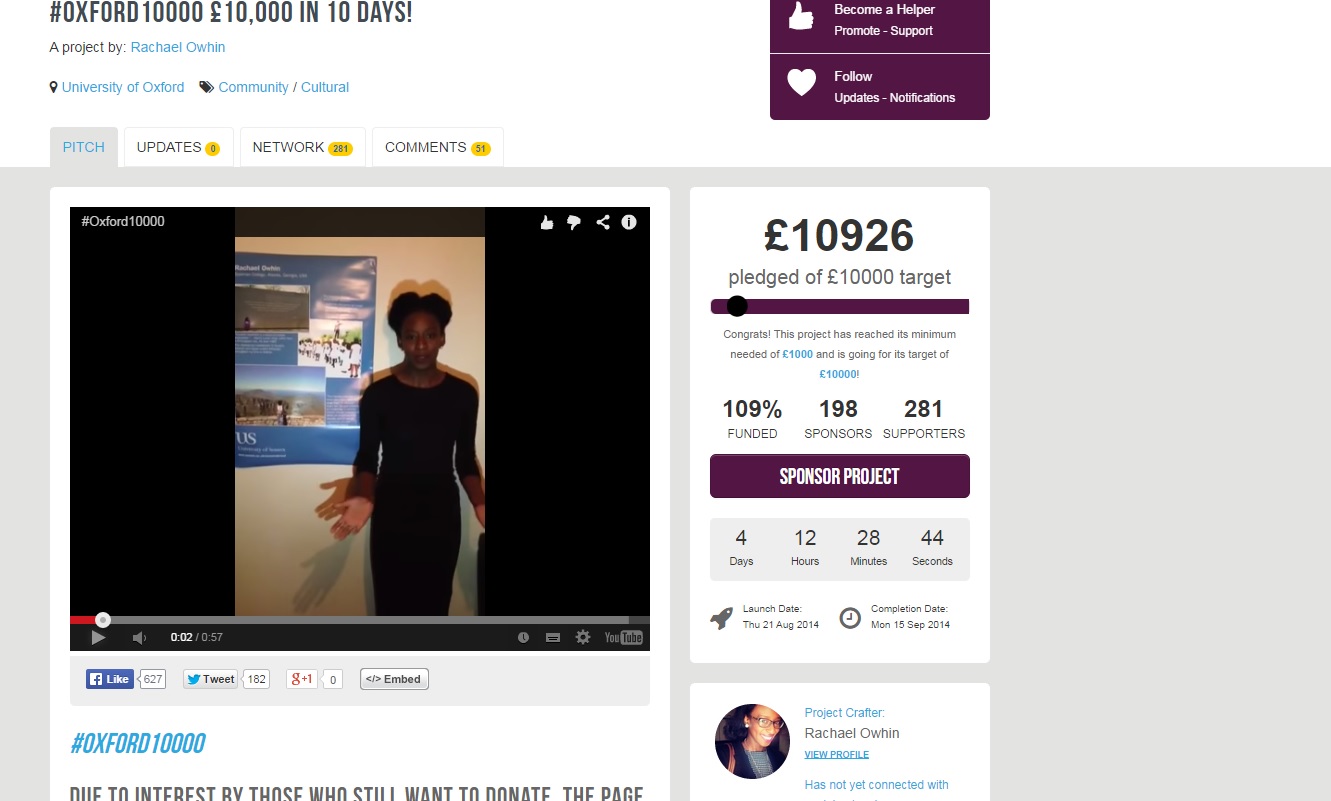 Her struggle for diversity
However after arriving at Oxford, she realized there weren't many Black British postgraduate students. In fact, she had met three, two of which had crowdfunded as well. In addition, Rachael lamented the fact there were only around 85 black professors in the UK, and only 15 of whom were women.
"If we can't even afford to get onto a master's, how on earth are we going to be professors?"
Given the importance of her observations, Rachael made the decision not to just sit back and lament. Consequently, she came up with "Oxford 10,000 Scholarship", inspired by her journey into the university. To show the faculty how serious she was about addressing the problem, she began raising the initial funds through a popcorn sale. While her beginnings might be humble, we can infer that given her track record, we will hear more about her foundation in the near future.
Her battle is not new; she recalled meeting someone who had almost lost his job campaigning for more diversity at Oxford, and we can only hope that their combined efforts are fruitful, for many within our society stand to benefit from it.
In addition to her fight for diversity, Rachael's interdisciplinary course has also led her to interesting topics, including a thesis focused on people of Nigerian descent in London 'returning' to their parental homeland. Her work has revealed that motivations differ, as do the notions of home for different people. With the 'Africa Rising' narrative, as well a higher rate of investment in the country (due to its increasing narrative as an economic powerhouse) we can expect interesting narratives to be dissected by her thesis. No pressure Rachael!
Closing thoughts
Reflecting on the whole process, Rachael put the decision to crowdfund down to pride and courage. I hope her story of unrelenting effort inspires others to have pride in their ambition, and have the courage to ask for help, so that they may not only soar as Rachael surely will, but also lend a helping hand to others. She certainly inspired me; in what ways has her story inspired you?
ABOUT THE AUTHOR

Jamal Mehmood is a poet and writer living in Kent and working in London. His work ranges from feature articles to interviews like the one above, as well as his primary art form of poetry. His debut collection "Little Boy Blue" is due for release later this year through Burning Eye Books. He is also working on a script intending on making a feature film in the future. You can see more work at www.jamalbhai.com